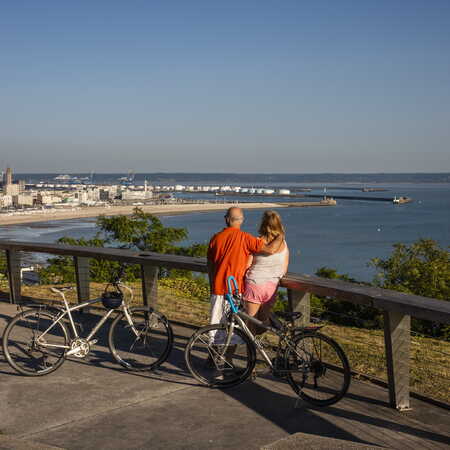 Point de vue sur Le Havre depuis les jardins suspendus © David Darrault - La Seine à Vélo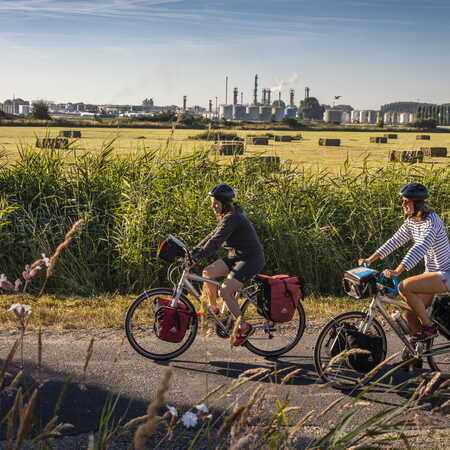 La Seine à vélo entre Harfleur et le Havre © David Darrault - La Seine à Vélo
south
Le Havre
An iconic destination at one end of the Seine à Vélo route!
Le Havre, its town centre rebuilt to the plans of architect Auguste Perret after devastating World War II bombings, is now a UNESCO World Heritage Site.
Explore its architecture, modern and classical, its close links with water and light, and its many vibrant festivals held across the year. Discover Auguste Perret's works; this master of concrete, the 20th century's answer to stone, has been honoured by UNESCO. Visit the Appartement Témoin Perret, an archetypal flat demonstrating how designers changed ways of living in the 1950s, and take a tour of the wider Pays d'Art et d'Histoire, revealing the area's rich cultural legacy. Make the most of the views over the Seine Estuary from the Jardins Suspendus, gardens now occupying a former fort, paying homage to botanical explorers.
In mid-July, tens of thousands congregate here for the world music festival, moZ'aïques. Sample the pleasures of Le Havre's beach, its promenade lined with seasonal restaurants from March to end September, other areas laid out for sports. The colourful beach huts also stand out, created by Dutch designer Karel Martens to celebrate Le Havre's 500th anniversary.
Plus, many artistic installations dreamt up for the festival Un Eté au Havre are now to be seen around town all year round. Do visit Le Havre's museums: the modern art museum, MuMa, with exceptional Impressionist collections; the Muséum d'Histoire Naturelle; the Maison de l'Armateur, a traditional merchant's house with its startling light-well; and historic Graville Abbey, with museum and romantic gardens. Plunge into the pools at Les Bains des Docks, an aquatic centre designed by top architect Jean Nouvel, where you can also enjoy the extensive balneotherapy areas, the whole set in a former port district that has undergone a complete makeover.
Breathe in deeply in Montgeon Forest! As well as hiking, try the fun family activities (a tree-top assault course, outings on the lake and children's games areas) available in this 270 hectare green lung. Get out to sea to discover the second largest commercial port in France, to explore Le Havre's Bay on a sailing boat, or to admire the iconic cliffs of Etretat. Enjoy the many regattas organized in the Bay, plus, every second year in October, it's possible, at the right time, to marvel at the extraordinary craft competing in the Transat Jacques Vabre Normandie Le Havre sailing race.
Prolong your stay with an exhilarating but safe ride along Europe's most beautiful cliffs, taking the Vélomaritime from Le Havre-Antifer's lighthouse to Etretat. The latter's astonishing needle of rock, the Aiguille Creuse, features in famed Impressionist paintings and in the tales of fictional gentleman burglar Arsène Lupin.