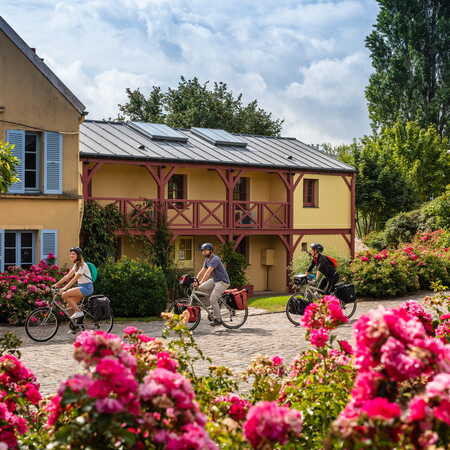 Arrivée de cyclistes au musée Fournaise sur l'île de Chatou © David Darrault - La Seine à Vélo
south
Fournaise Hamlet on the Île des Impressionnistes
A gem on the Île des Impressionnistes at Chatou!
Relish the convivial atmosphere at the Hameau Fournaise. Visit the Musée Fournaise, with its immersive experience dedicated to Renoir and to the Fournaise family, who created the riverside restaurant here, with its outdoor dancing, where Renoir, Maupassant and Caillebotte so liked to come, among other artists.
Also head to the Galerie Bessières to plunge into contemporary art, and to Sequana, to meet passionate, fascinating boat restorers. Aim to arrive in good time for lunch, to eat either at Les Rives de la Courtille or at La Maison Fournaise, where Renoir painted his masterpiece, Le Déjeuner des Canotiers. In the afternoon, you might embark on a mini-cruise aboard the boat, Chloé, or wander along the Chemin des Impressionnistes trail.