La Canopée de Mareil
30 chemin de la Tour d'Echelle du Mur de clôture de la forêt de Marly 78750 Mareil-Marly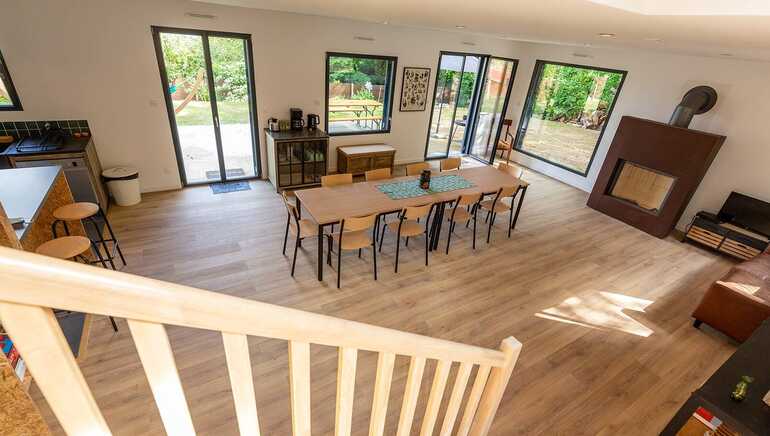 30 chemin de la Tour d'Echelle du Mur de clôture de la forêt de Marly 78750 Mareil-Marly
You are convinced of the benefits of being near a forest for working, recharging your batteries, spending holidays. La Canopée de Mareil welcomes you.
A house nestled in the hollow of the trees, several modular spaces to meet all your desires! A stone's throw from the forest of Marly and with an incredible view of the villages of Saint Germain Boucles de Seine and in the distance the Eiffel Tower and the Montparnasse Tower.
>The "House in the Trees", the "Cabane Perchée" or in a bed and breakfast: Rejuvenating stay with family or friends
Book the House in the Trees 150m² or the Cabane Perchée, a 50m² place with a roof terrace that can be closed off from the rest of the house.
This wooden frame cottage is ideal for enjoying holidays with friends or family near the trees of the forest of Marly-le-Roi and 30 minutes from Paris.
>Espace O Bouleau: Working green
Management Committee, Managers, CSR, HR, innovation, communication managers, consultants, come and work with your team, your customers in the "O Bouleau" workspace. During the day or over several days, bring out your projects under the inspiration of multi-hundred-year-old trees.
>Espace Hêtre: Take a well-being break
Sign up for the courses "Our neighbours, the trees", in the "Espace Hêtre" during the day or at the weekend, a liberating stay placed under the sign of letting go guided by benevolent and certified canopsian practitioners.
What if the time had come to reconnect with nature?
"There is not much left to learn from the city. It is time to return to walk in the forest" Peter Wohlleben, the secret life of trees
This establishment is Accueil Vélo and offers specific services for cyclists.
Contact par
mail
* Required fields
Report a problem with this establishment
* Required fields